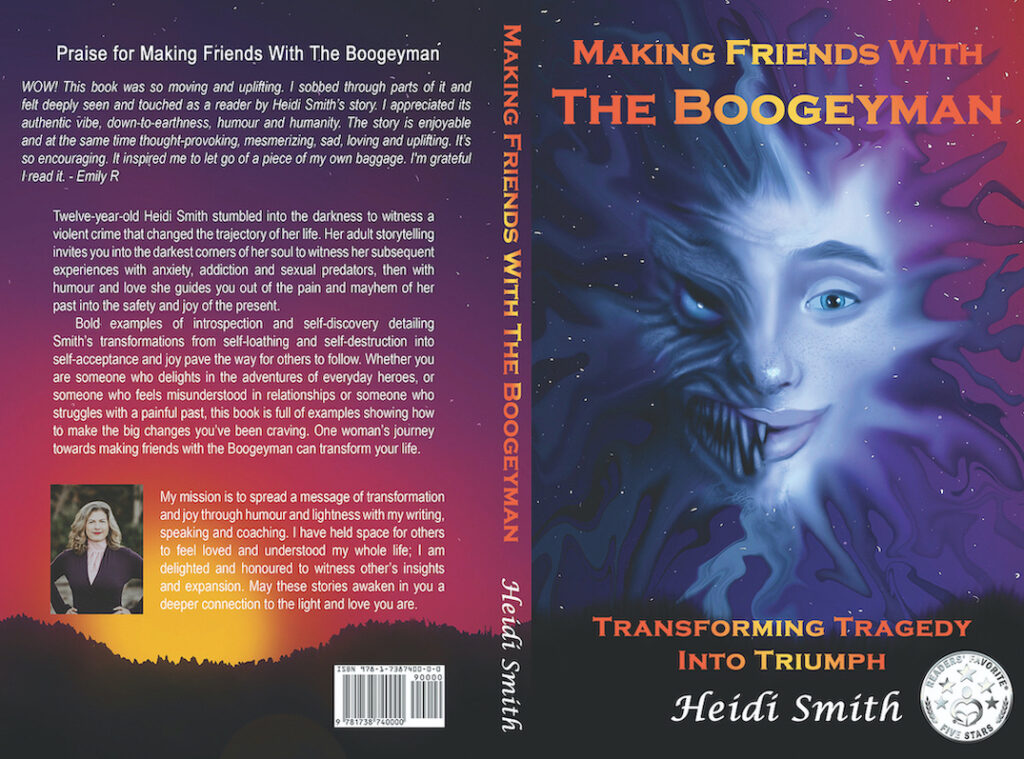 What readers are saying about "Making Friends With The Boogeyman: Transforming Tragedy Into Triumpgh"
WOW! This book was so moving and uplifting. I sobbed through parts of it and felt deeply seen and touched as a reader by Heidi Smith's story. I appreciated its authentic vibe, down-to-earthness, humour and humanity. The story is  enjoyable and at the same time thought-provoking, mesmerizing, sad, loving and uplifting. It's so encouraging. It inspired me to let go of a piece of my own baggage. I'm grateful I read it.
Emily R.
Heidi Smith was a cheerful and lighthearted child who frequently made those around her laugh. But one night, when she was only 12 years old, this carefree lightness of being was buried alive. Heidi was half asleep, stumbling toward the living room, searching for her mother. What she witnessed left her scared to the core, and for most of her life, she carried the pain in silence and crucified herself for what happened. For many years, Heidi thought drinking and drugs were the only ways to escape her pain. But this would always create a pile of reasons to hate herself. In Making Friends With The Boogeyman: Transforming Tragedy Into Triumph, Heidi Smith guides us through how she overcame her traumatic past to become the best version of herself and how she discovered happiness in the wreckage.
Put down your sword and reconcile with your past. This was the message that stuck with me as I read this book. As human beings, we all have humiliating and painful pasts that we wish to lock away forever. Heidi Smith shares her story in a style that makes you feel and understand that you are not alone. She goes deeper to make you feel that you are so much more than your painful past. She incorporated several uplifting quotes that will leave you thankful you have made it this far. My favorite was the one that encourages the reader to always be optimistic about themselves. Making Friends With The Boogeyman is written from a first-person perspective. This made me feel as if I was sitting across a table from the author. This book will be a gift to anyone suffering from depression and wishing to see life in a new light. Psychologists and therapists will also find it beneficial to them in their line of work.
Readers' Favorite Five-star review from Alex Ndirangu
Breathe, this is how I felt after I finished Heidi's book. I felt I could breathe through my challenges, change my life and face my own versions of the boogeyman! Heidi bravely tells her story of recovery from addiction and trauma. She shares all of it with vulnerability and courage and doses of humour. Watching her transform through self appraisal, hard work and curiosity took me on a journey I could not put it down, Heidi is a gifted storyteller. There is lots of practical advice woven in through the pages of her story. A must read for anyone who wants more in their journey of life and hope in seeing how better is possible!
Heather M
In this powerful book, Heidi Smith shares how you can transform tragedy into triumph. The blend of Heidi's personal stories with practical exercises makes this book both intimate and useful. Reading this book is like having Heidi as your own personal coach and champion. Highly recommended!
Aurora Winter, MBA bestselling, award-winning author Turn Words Into Wealth