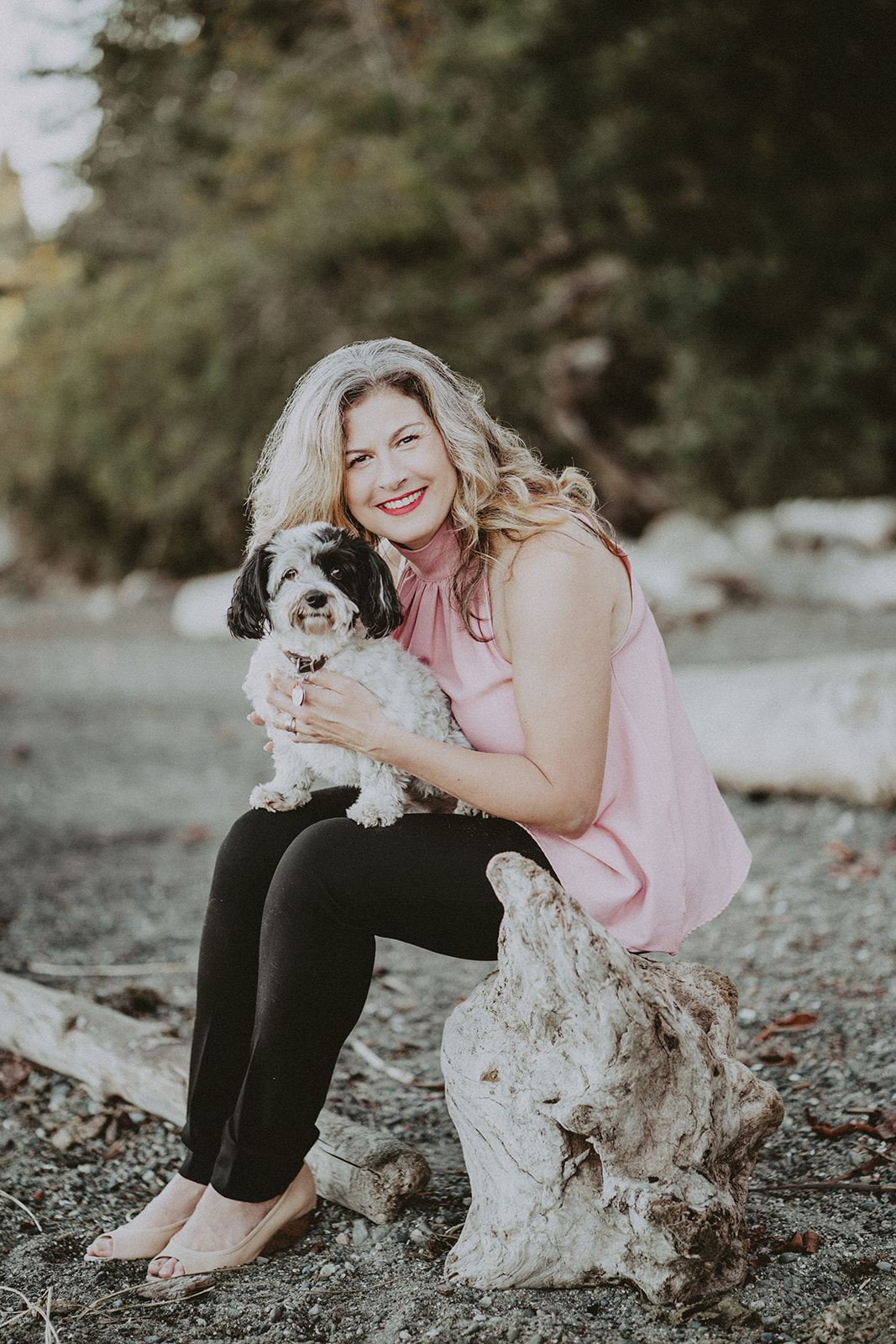 Testimonials
I had been unable to move forward, stuck in the past. Traumas that I had experienced were stuck deep inside and new grief was exacerbating my ability to cope. I have suffered depression for well over 30 years. I have tried many different ways to help myself but they only helped me feel better short term. I was chronically exhausted and carried the weight of deep sadness.

The work I did with Heidi was transformative.

The requirements were to show up, be present with an open mind, and be committed to the process. There were times I found this challenging. My resistance was alive and well.
I persevered because I wanted to learn to free myself from anger and resentment. I wanted to learn new strategies to deal with challenging situations. I stayed the course. Heidi always created a situation of safety, and was steadfast in her resolve to walk with me in support of my journey and facilitate change.

Heidi's business is to help people free themselves in order to live their dreams and she delivers. The best part is that the work you do is sustainable. Many people have said to me "you look great". It's not a hairstyle or a physical body change, It's not new clothes.
It's my light. I am energetic, content, and smiling again.
That is the best gift to give yourself.
Invest in yourself so you can live the life you choose ~ you are worth it!
– Lyn
When I started working with Heidi my anxiety was off the charts. I was waking up every hour on the hour and felt like someone was sitting on my chest, my energy level was at a 4. Working with Heidi I felt safe… able to be vulnerable. I trusted her and was able to look at the scary things that were coming up for me that I couldn't share with friends or family. I let go of a lot of anger and now my energy has gotten as high as a 10! I'm no longer afraid of the issues that I started with. I had been carrying around this stuff for many years. I know I am stronger than I thought. I feel more peaceful in my daily life. I can see my choices so I don't feel overwhelmed. When I get upset it is easier for me to express myself and deal with it now instead of socking it away. I feel more compassion and vulnerability in my relationships. I feel naturally energized and I am enjoying life a lot more. I have done a lot of work on myself over the years, Heidi took me to another level and I had many enlightening moments and learned a different way to view negative feelings and emotions. I highly recommend working with Heidi.
– Heather M.
I have been working with Heidi Smith this past year and the impact her knowledge and expertise has made on my life has been tremendous. I have been able to focus on the things I want and move toward them with ease, my relationships have benefitted, I have more confidence in my decision making and overall interactions, and ultimately I have more peace in my life. I found Heidi's approach has a grace and ease to it along with trust and security, which I found assists the depth of healing and processing during our sessions. She is intuitive, highly skilled, and a trustworthy mentor to have in one's corner. Heidi comes highly recommended by me and I am sure many others. Working with her is an opportunity of a lifetime.
– Anneda
Heidi has the ability to shift you through your deepest moments and get to the core of energy with patience, heart, and encouragement.
Her variety of tools helps to attend to anything that is stuck and holding you back from your fullest potential. She then helps to transform that energy back to love and personal power.
She is a wise and loving person with the ability to hold space and move you into a higher level of being.
– Denise
"Like many folks, I struggle with anxiety and I have since I was young. To be honest, I did not really recognize my anxiety as it was as normal and familiar to me as the feeling of my skin or the sound of my own voice. At some point along my life's path however, the weight of my anxiety started to become too much to bear as the cracks of trauma, that deepened within, became too much to handle on my own for any longer. As I started to seek various forms of help, I was lucky enough to have found myself speaking with Heidi.
Heidi introduced me to new perspectives and ways of looking at the various issues I was troubled with. She gave me space and agency to speak my mind and encouraged me to confront issues truthfully. Heidi taught me new frameworks and tools that helped me to make sense of things in a way that I could reason. Being able to feel like I was not alone or crazy in dealing with my anxiety has been such an amazing thing. Having new frameworks and tools to lean upon has been a real game changer!
I'm now feeling much more equipped to be able to move forward in my life knowing I have the power to deal with my anxiety. Thank you so much for all your help Heidi. I can't speak highly enough of you and your approach to helping me.
– Sven
"I have worked with Heidi in a number of sessions, and recently attended a powerful workshop on unwiring limiting beliefs. Heidi belongs in this space, with her ability to guide, reflect, and help people shift their beliefs. And that's saying something—because our beliefs are anchored at the deepest level. Sometimes we don't even know what our beliefs *are*—we just see the results as our life unfolds. (That's usually the cue to start looking.) In her coaching and workshops, Heidi shares powerful, effective tools and a clear way of teaching them. She also brings acute awareness born of her authentic lived experience—often the thing that distinguishes a good coach from an exceptional one. I recommend working with her."
– Alex V
"I worked with Heidi on another project prior to her training in her current techniques.
I was drawn to work with her as I saw her blossom as she went through her training and experienced breakthroughs in her own life.
I wanted to experience blossoming and I did! Heidi is calm, compassionate and completely non-judgmental.
I went into my coaching call with her with a lot of self-judgement and left 90 minutes later with a sense of peace and a deeper understanding of the power of my choices."
– Maureen W
"It is inspiring to work with someone like Heidi that can teach about an extraordinary life and also live an extraordinary life. The principles that Heidi uses are alive in her mind and heart and body."
– Michael
"I was feeling a lot of fear around a specific problem. Working with Heidi has clearly had an impact in three important ways: a generalized feeling of relief, a surprising physical shift with the actual situation days later, and most importantly with a lasting change in my inner process going forward. Now when I notice a bit of a charge over one event or another I notice immediately an ingrained feeling of "I can accept that _____ is coming up, and I love it because it is part of me." And, immediately it dissipates the feeling. Heidi's kind, warm manner, and deeply intuitive nature make her a fantastic support and guide. I strongly recommend working with her.
Thank you Heidi for supporting my own inner process!"
– Danielle
"Heidi provided me a safe place and guided me through a specific issue. I was able to reframe and clear some stuck emotions that weren't helping me, after our time together I had new coping tools."
– Eric
"I would highly recommend Heidi Smith. Her sessions are intuitive and thoughtful, meeting me right where I am that day.
She is an attentive listener and a kind soul. With her help I moved through long held negative beliefs and blocks. I found myself and my consciousness open and expanded to move forward in my life."
– Denise
"I've had several sessions with Heidi and know several others who've worked with her and found tremendous value in working with her as a coach. I can't recommend her highly enough. She's compassionate, intuitive, naturally curious, empathetic and patient. She's also a lifelong learner, always engaged in her own "work" and always growing herself. She always knows just what process to use at just the right time. Heidi is a gifted coach and a beautiful human. If you want to move yourself forward, she'll help you get there."
– Rebecca
"I was struggling with anxiety around the Virus situation and feeling a lot of fear of my family members dying and me being left alone. Heidi's gentle guidance helped me boil down my issue and we did a moving visual journey to arrive at a healing place. I was surprised the guided piece was so powerful as I usually resist this type of work. I felt more calm and peaceful after our call.
I hope to do more of this work with Heidi in the future to help me work through those 'sticky' thoughts that keep me from peace."
– Heather M
"I felt like you guided us through a well thought out process and yet were flexible enough to accommodate my needs. You made me feel very safe such that I was able to share some very personal things easily. You helped me to feel at ease and relax enough so that I could get more out of our time together than I thought possible. I thought you were so professional. Know that my prior thoughts about seeing you are with the benefit of previous experiences with various kinds of therapists that did not get me the results you were able to."
– SR
About Creating An Extraordinary Life Workshop…
"Heidi is a sincere, light-hearted facilitator and her process helped me identify the one key issue that's been holding back my personal and professional growth. I gained deeper insight into myself through this work and cleared the roadblocks."
-MJH
"I really enjoyed the workshop – Creating an Extraordinary Life. Heidi provided practical and useful guided activities to help individual participants achieve personal and unique insights. I found Heidi to have great facilitating skills while sharing care and attention with each participant throughout the workshop. It was very interesting exploring the avenues to help achieve freedom, power, possibility, and joy. I have, and will continue to, recommend participating in one of Heidi's workshops in the future."
– Lonnie E
"I invested my time and money to take this workshop because I wanted to move forward in my personal growth and take a step in a new career path. However, I felt held back by my lack of confidence. I wanted to move from thinking about ideas to taking clear action. I thought this workshop would be a good first step and it exceeded my expectations! I would highly recommend this workshop for anyone who feels confused or stuck in some way and wants to move forward with clarity. The reason I would recommend working with Heidi is that she knows how to connect with a group. Heidi is an excellent facilitator because she has the ability to stimulate interaction without bias, and she demonstrates the skill to create and maintain a safe environment for participants. Heidi practices and models good listening skills, and she is acutely aware of other people's emotions, is fair, and empathic.
I found Heidi to be pro- active in the group and was flexible enough to allow necessary conversation. All of Heidi's qualities, skills, and knowledge make her an exemplary coach and facilitator . I found this workshop was quality time well spent and a real game changer."
– Lyn B
"I took Heidi's workshop because I have done work with Heidi in the past that was helpful so trusted this would be the same! I really had no idea what to expect, I just cleared the decks for the day for myself and came with an open mind. The day turned out to be yet another turning point in my life where I learned a new method to deal with my limiting beliefs! I was happy to have others joining on the journey, always great to meet like-minded people. Heidi managed the time very well and kept us on track, no mean feat with a bunch of chatty women. This method is something useful that I can practice on my own as those limiting thoughts come up. I look forward to more workshops with Heidi sharing her gifts and talents from her heart!"
Heather M
Create Your Vision for 2021 workshop…
"My goal coming into this workshop was to get focused and organized for the new year and I came out with so much more. On a scale from 1 to 10, I would rate this a 9. The only reason why I did not give it a 10 is because I did not know how much I would be truly getting out of this experience. The meditations integrated all of the intentions I had and also brought to light deep seeded emotions I had been holding onto that were holding me back from succeeding that I didn't even know were there all along.
This is more than a simple workshop. It's a transformation. Assistance into a new perspective on how everything you want truly can be yours, easily! The exercises and experience will stay with me forever and that to me is priceless."
– C Birkbeck